3 Unconventional Essentials to Invest In For Your New Home
Posted by Joe Manausa on Wednesday, December 20, 2017 at 2:31 PM
By Joe Manausa / December 20, 2017
Comment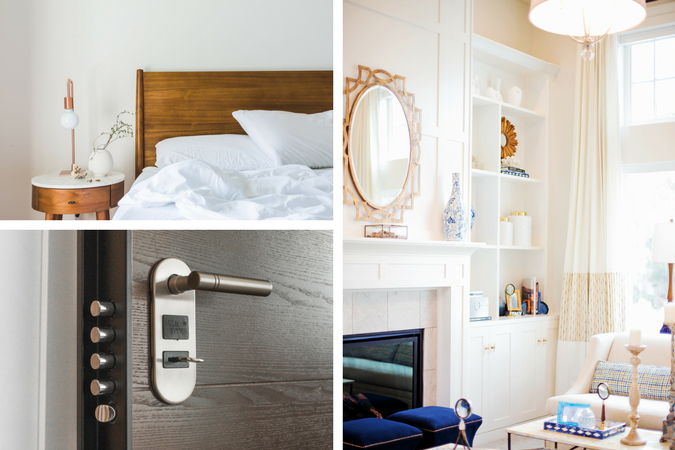 You've just purchased your new home – congratulations! This is a great time to purge old belongings and make a list of new items to invest in.
There are a lot of moving checklists out there for you to consult, but below are 3 unconventional essentials that you should consider to help your new house feel like home even quicker.
Alarms and Safety Items
Simple: Keys and locks
Splurge: Security system
There's nothing more important than feeling safe and secure in your new home. Purchase a new key and deadbolt for your exterior doors for a quick and easy added sense of security, knowing you're the only one with keys to the doors. Check out Lowe's to find out how to install a deadbolt to DIY your installation.
Speaking of DIY, consider purchasing a modern home security system. Today, many new home security systems are so easy-to-use; any homeowner with an internet connection can install them. Splurge on SimpliSafe's home security system. Winners of CNET's Editors' Choice for home security, SimpliSafe is a simple set-up security system that doesn't require a long contract.
For other simple safety measures, make sure you purchase new fire alarms, batteries and flashlights to have on hand in easy-to-find places in your home. Peace of mind doesn't have to be an expensive luxury.
A Good Night's Sleep
Simple: Pillows and sheets
Splurge: Mattress
After the excitement of signing your closing papers and pulling in to your new place, the first few days (and weeks) in your new home can be tiring. Set up your beds first and consider making a small investment in new sheets and pillows to give you a simple comfort when you fall into bed at night. Sleep.org recommends that you replace your pillows every one to two years, so this is a perfect excuse to treat yourself.
If you've been sleeping on the same mattress since college, it's time to upgrade your mattress to improve your sleep. Mattresses usually last 8-10 years and they used to require an annoying trip to one of those big box mattress stores. With online shopping and review sites, it's easier than ever to purchase a high quality mattress from the comfort of your brand new home. Have one waiting at your new doorstep and enjoy a comfortable and cool night's sleep in the Tampa heat.
New Lighting
Simple: LED light bulbs
Splurge: Smart light bulbs
Another way to make your house feel like home is to keep it well-lit. This is a simple way to help you enjoy all of the nooks and crannies of your new space. Apartment Therapy states that most homes are underlit and suggests having 3 points of light per room, but more lighting doesn't have to mean a bigger bill. A simple way to keep your space bright without wasting energy is to buy a pack of LED lights and replace all of the bulbs in your home. LED lights are inexpensive, cooler, and more energy efficient than regular incandescent bulbs.
Step your lighting and smart home game up by splurging on smart LED bulbs. Philips Hue bulbs are a popular option that work with your smart home assistants, like Amazon's Alexa and Google Home, and can be turned on and off with an app on your smartphone. Smart is looking brighter.
If you have any questions about the home buying process, contact an expert with more than 26 years experience in the real estate market.
Carley Paterson is a freelance writer for Casper. She is passionate about research, thoughtful design and mindful consumerism. If you find yourself in need of quality bedtime essentials, Casper has tirelessly engineered and revolutionized the foam mattress market - balancing both soft and firm, and conveniently packing and shipping in a box directly to your new home.