7 Tips for Buying Real Estate in Pinellas County
Posted by Joe Manausa on Tuesday, October 31, 2017 at 8:28 AM
By Joe Manausa / October 31, 2017
Comment
If you like it when math doesn't add up, try this: the County of Pinellas in Florida is only 38 miles long and considered the state's second smallest country, yet it has 4,242 acres of landscape, 4,521 miles of roads, 35 miles of beaches, 588 miles of coast, 43 golf courses, 2,865 shuffleboard courts, and over 40,000 businesses.
With all that space, there is plenty of real estate in Pinellas County to be had.
Whether you want to buy near a beach, forest, or something in between, read these tips before you pack your bags.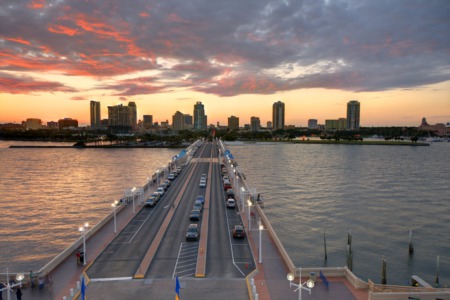 1. Rising Tides
No, we're not talking about the cost of real estate in Pinellas County, but actual water.
Long-time Florida residents will have a wealth of knowledge for newcomers about flood insurance but there's one thing to know: you need it.
No, it's not necessarily required, and in many cases, homeowners can be surprised that they don't automatically have it in place, especially after a storm.
Don't be that person.
Instead, be like the Boy Scouts, and be prepared. Find out if your home is in a high-risk area, which could qualify you for National Flood Insurance. (The good news is, if you're not high risk, you may actually qualify for a lower-cost flood insurance policy offered by the federal government.)
The idea is, get a policy to protect the real estate in Pinellas County that you've gone to all the trouble to research, visit, buy, and build up into your own space.
For example, residents of Pinellas County were hit hard in September 2017 from Hurricane Irma, with damage to a senior living apartment complex, cars, and a parking lot.
2. Mother Nature's Plans for Pinellas
Mother Nature isn't always as vicious as she was with Hurricane Irma, but property owners in Pinellas are no stranger to wet weather.
It's a regular thing here, with over 50 inches of rain per year. Of course, Pinellas County also enjoys about 244 sunny days per year with July highs only going up to about 90 degrees. And in Florida, winter may just be the best time for home buying because we're not buried under snow, sleet, and hail.
So as you look at all the man real estate options in Pinellas County, you'll want to at least take the weather into account.
Homes built on hills could make lower-down driveways at risk of flooding, which could prevent you the ability to park or access your car if it's already up to its wheel wells in some of those rainy inches.
You may want to seek out a home with a built-in pool or access to a community swim center for all those warm days. Talk to your agent about things like homeowner community fees. Although you may have some, the fee you are required to pay may be actually less than what you'd pay to join an outside swim club.
Talk to your realtor about how long it's been since your property's roof was updated, as one or two of those days of rain on a very old roof may mean leaks you're not prepared for.
And you can even go green by looking into solar energy improvements, such as those recommended by the Florida Solar Energy Center.
3. Hitting the Books
Whether you're relocating your family with the intention of enrolling them into Pinellas schools or hope to grow your group after you've put down roots in real estate in Pinellas County, you'll have a lot of choices.
For higher education, Pinellas offers:
St. Petersburg College
University of South Florida
Eckerd College
Schiller International University
Fortis College
There are even more options for younger residents of Pinellas County, including three pages of elementary schools (including magnet options) and even the Pinellas Virtual School an online/work from home high school for residents of Pinellas.
4. Things to Do
Buying a home and moving may be one of the busiest times you'll ever withstand, but eventually, things fade down. You're settled in, the cardboard moving boxes have been recycled, and you're unpacked.
Now what?
Now you need to know what to do! Buying real estate in Pinellas County is just your first step! It's time to actually get out there and enjoy the place you just bought into.
It's always a great idea to start with your local visitor's bureau, which is usually a fee-free way to get ideas of what's happening in and around your new spot. You'll find info about always-on activities such as recreational sports clubs, arts, dance, and music, but also listings of special yearly events and festivities.
Local news stations also often offer roundups, and residents of Pinellas who tune into Bay News 9 will find their Pinellas events calendar offering details on an AARP Smart Driver Course; a Father/Daughter Ball; the 2017 Peace, Love, & Women Music Festival, a Hispanic Heritage Party, and a peanut butter and jelly run.
5. Crime
Safety isn't always first on the list of the moving checklist, but shouldn't it be?
Moving is at least temporarily a huge commitment and you'll be putting down roots in a place where you'll be sleeping, driving, and living.
That's why it's always a good tip to investigate the crime in your perspective area before you sign on the dotted line.
If you're considering real estate in Pinellas County, you have an optimal Crime Viewer at your fingertips.
You can enter the exact address, if you know it, or do larger-scope searches such as by the city or zip code.
On the crime viewer, you can narrow (or widen) searches by the type of crime, the date range, and more.
While crime statistics change daily, arming yourself with knowledge is never a crime.
6. Think Outside the House
Houses may be the first thing we think of when we hear someone's looking for real estate in Pinellas County, but we urge you to think outside the house.
Maybe you already own a home or are happy renting.
What about other types of property? Perhaps Pinellas County could be the perfect place for your new commercial business location. A well-versed Realtor can help you find the ideal space.
Of course, being so close to the water means that many Pinellas County residents or residents-to-be should also be thinking water transportation.
When you're searching for property areas within Pinellas, don't forget to include a place for your boat. For example, a quick September 2017 search of some Pinellas County realtor listings for "dock-rackomium" property types offered 11 options up for sale, including listings on Starfish Drive, Coffee Pot Boulevard, Gulf Boulevard, and several on Cobia Drive.
The right agent will help you ensure you've got everything you need, as several areas require hoops for purchasers like already living on site at the accompanying yacht club or owning a home in the dock point's sub-division.
7. There's Even More Scoop on Real Estate in Pinellas County
Whether you're moving in from a neighboring county, across the country, or even morefar off, it can help to get expert insight from those who know it best.
Consider a local realtor your private eyes and ears.
You've probably heard it's smart to visit a property several times before buying it but this isn't always possible, especially if you've scheduled one set weekend to visit Florida from far away.
Instead, contact a local realtor and put the powers of those eyes and ears to work for you.
You'll gain tons of knowledge about the weather, traffic, events, even insider information on neighborhoods, noise, crime, and more.
Send your information and we'll get back to you with prime Pinellas details.