Home Maintenance To Do In Each Season
Posted by Joe Manausa on Thursday, March 28, 2019 at 10:00 AM
By Joe Manausa / March 28, 2019
Comment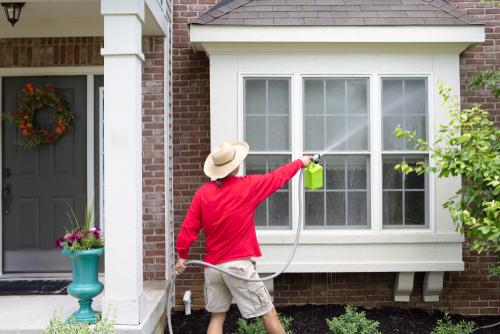 Owning a house is a lot of work. And unlike renting, you can't call the maintenance man when something needs to be fixed. Therefore it's important to do regular upkeep on your house to keep it in good condition. If you're new to home ownership or need a few pointers on how to maintain your house, just keep reading.
As tedious as it might be, there is seasonal maintenance that your house needs to get it through the upcoming months. It'll require some effort on your part, but it'll ensure that you don't run into any issues down the line. Moreover, you should enlist the help of a professional for jobs that you can't do yourself.
Spring
The Spring comes after a long winter and will need a bit of repair to get things back to normal.
Clean The Exterior
Spring cleaning isn't just for the interior of your home. After a long winter, your house might have collected dirt and grime that can damage the paint. Depending on the condition of the exterior, you may or may not need a pressure washer. If there are any hard to clean areas, spot cleaning them with detergent should do the trick.
Plumbing
The Spring is a good time to check the plumbing. Check the pipes for leaks and look under the sinks to make sure there are no issues. Your walls will also show signs of leaks as well; stains and discolorations throughout the house are usually an indication that there's a problem.
Summer
The summer months are all about fun and upkeep on your house should be relatively easy during this time of the year.
Reverse The Ceiling Fans
You want a nice, steady flow of air coming through your house during the summer and the best way to get it is by adjusting your ceiling fan. Setting it to a counterclockwise motion moves the air in a downward motion, which creates a cooler breeze.
Make Some Home Improvements
The summer is a perfect time to give your home a makeover, and nothing revitalizes a house like a new look. You can add in a few accent rugs or change out some of the furniture. It's also a good idea to learn how to install window blinds, so your house can have more protection from the sun and heat during the summer. Once you've done that, add a few new curtains, and you've got brand new decor!
Fall
During the autumn months, there are a few key things that you should do to ensure that your house has a smooth transition into winter.
Have Your Heating System Inspected By A Professional
The last thing you want is for the winter breeze to come spiraling in only to find out your heat doesn't work. Take some time in the late summer and early fall to get things inspected so there are no surprises. Additionally, you should have the boiler checked and the chimney cleaned. If you're going to light the fireplace, you want to make sure there's nothing blocking it that could cause a fire; which leads me to my next point.
Inspect The Roof
Check the roof for missing or damaged shingles and leaks. The cool months of the year can cause additional wear and tear on your roof, and the last thing you want is a torn rooftop during the winter. Get everything inspected before it gets too cold.
Winter
A house can be challenging to maintain, especially during winter months, but there are a few things you can do to avoid mishaps.
Run The Faucet
If you encounter some evenings with freezing temperatures, letting the water drip through the night can prevent frozen pipes. You don't have to run the water on full, but a light steady stream will help keep your pipelines from sticking.
Have A Back-Up Generator
The power can go out at any time, and you don't want to get stuck in a freezing cold house with no electricity. Investing in a generator is a smart idea for emergencies, especially if you live in an area prone to storms.
Annual Check-ups
There are a couple of essential devices that your home might need all year. So giving them regular maintenance is necessary to ensure they will function correctly during an emergency.
Inspect Your Smoke Detectors
It's a smart idea to check your smoke detectors twice a year to ensure they're operating properly. Keeping your home safe from fire should be a top priority and a check-up every six months should be enough to to make sure your smoke detector is working like normal.
Power-Up Your Generator
You never know when you'll need your generator, so it's best to keep it running like new. Turn it on every quarter and have it serviced every six months. It's also prone to corrosion so be on the lookout for that as well.
Cut Down On Repairs
The thing about houses is that if you ignore little issues, they can pile up into big problems. And substantial repairs are often expensive. It might be a pain to give your home so much attention, but it'll save you in the long run. The weather puts a lot of wear and tear on houses, and some of it can easily go unnoticed. The last thing you want is a huge problem that could have been avoided with routine maintenance. So, follow the tips above to help you keep your house in pristine condition.
---
Kenneth Gordon serves as the Assistant VP of Factory Direct Blinds. Kenneth is responsible for overseeing the planning, development, and execution of all Factory Direct Blinds marketing and advertising initiatives. Before joining Factory Direct Blinds, Kenneth served 6 years in the United States Air Force as a Military Police Officer. Kenneth enjoys spending time with his two sons and beautiful wife Brittany when he's not working or writing.